Kevin Mongeon, PhD Student, MBA. NLP Washington State University, Pullman, Washington, USA.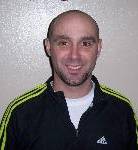 "I am writing to send my sincere thank you for the excellent training seminar. I was originally referred to Steve Boyley by another well known and respected NLP trainer. You have clearly developed a mastery of your NLP skills, allowing you to easily articulate and demonstrate the skills. As you know, I am currently studying a PhD in Economics and after the NLP training I found it very straightforward to use NLP to improve my effectiveness in school and relationships. In particular, I used NLP to immediately help family and friends resolve conflicts and develop well formed plans to achieve their goals.
NLP tools that I have found to be particularly useful in my life are the Meta and Milton model language patterns. Improving the communication I have with myself and others has improved my map of the world and the quality of my life.
Specific qualities in your training style that I found to be most remarkable is your ability to teach with passion and patients while clearly explaining and demonstrating the concepts effortlessly, allowing the students to gain the understanding of the fundamentals while having flexibility to use the skills to improve any area of their life. I enjoyed the intimate training while getting to know your family and the other students in the class that I remain in contact with.
I look forward to taking the Master Practitioner Training from you soon."
People like Kevin say "I love my NLP Mind."