J.P. Vargas. MBA. Trainer & Consultant, NLP Mexico City, Mexico.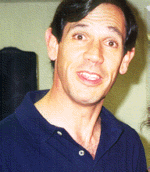 "I attended The Performance Institute of NLP Practitioner Certification last August to find a new world unfold before me. Not that it wasn't there before, I was just not aware it was. Steve Boyley in tandem with our fantastic co-coach Elizabeth Payea Butler provided for a fun yet profoundly enriching learning. (Indeed a powerpack!) More than taught, NLP Practitioner skills were masterfully installed and checked. Rapport, Meta Model, Milton Model, Pacing & Leading, and at least 15 other skills were combined with more than 40 exercises, rich metaphors and ongoing fun in a loose and inviting to question and to feel environment.
Small class format, plenty of time to discuss anything we felt like, open minded instructors and a very diverse group made for one of the most enriching learning experiences of my life. This was enhanced both by the Hawaiian setting of the venue as well as by some of the most breathtaking Canadian nature scenes. A far cry from the certification offered in modules which I attended in Mexico City.
And this process has been further enhanced by an open channel all of us have had with him since, in order to discuss further experiences as well as new NLP developments and applications. Now, try that now with other instructors.
I feel confident of being a top certified NLP practitioner while I discover on a daily basis how much more of the NLP training I am applying. (Wow, I did that?) I am also quite impressed at the ease with which my seminars are sold and how I begin to gain attention by the media. My entrepreneurship traits have been enhanced and in less than a month's time, more than 15 people have asked me to coach them, and my mission is clearly imprinted in my seminars.
I highly recommend NLP training with Steve."
People like J.P. say "I love my NLP Mind."