Jeff Richards. CHt, Master NLP Columbus, Ohio, USA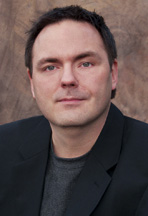 Peak Performance Hypnosis
"I had a great time during my Master Practitioner training. I had attended three short-form trainings and had earned my Practitioner and hypnotherapy certifications prior to coming to The Performance Institute, and since each training had been with a different trainer (or team of trainers, in once case) in a different city, I have a variety of examples with which to compare this training. Yours was the most information-packed, most useful, and most fun training I have ever attended.
It was nice to have a variety of good, reasonably-priced places to eat within a few blocks of the training. Compared with my Practitioner training, and taking into account the costs travel, meals, lodging and the NLP Training course itself, I spent about $1,000US less for my Master Practitioner training than I did for my Practitioner certification! Gotta love that exchange rate!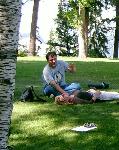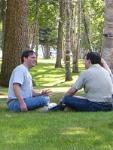 As you know, I earned my Practitioner certification earlier this year through Paul McKenna Training in London, England, with Paul, Michael Breen and Richard Bandler as co-trainers. While training with Richard was a great experience, I am jealous of the Practitioner delegates from your NLP training. They got a much richer Practitioner training experience than I got in London, were exposed to a lot more material and received better guidance in how to use NLP in the real world. My Practitioner training was held in a hotel ballroom with 450 delegates in attendance. Even with the large number of assistant trainers they had on hand — perhaps as many as twenty-five on some days — there was minimal supervision during our exercises there. I enjoyed the fact that, by choosing to limit your class size, you can observe our progress, provide assistance when needed and add elements to the exercises while we worked. That adds a lot to each exercise without us having to stop working and direct our attention to the front of the room to receive new instructions.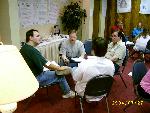 Another very important difference between yours and the McKenna/Breen/Bandler training is the philosophy you take. In London, we were taught only the longest way to perform any particular technique. You placed emphasis on getting the best results with the simplest form of the technique that will work in a particular situation. Being shown both the long and shorter versions of the techniques you taught allows me to be a lot more flexible with my clients.


An added bonus of your training is the option to get a hypnotherapy certification at the end of the week. My previous hypnosis certification course took me several months worth of weekends out of town and, while I came away with some good skills, I also spent a lot of time learning about things that I will never need to know when working with clients (I have never, ever had a client ask me to give a 'timeline of the development of hypnosis in the modern world', but I had to know it to pass my test) and spent over $3,000US on the training alone! For anyone interested in using their NLP skills to work with clients right away, being able to be certified as a Hypnotherapist with no additional training is a great opportunity. Even though I'm already certified through another organization, I opted to get this certification as well since the American Board of Hypnotherapy is much better known.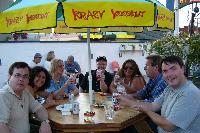 My greatest concern when I signed up for your training was the long days. In London, we went from 10:00 in the morning until around 6:00 in the evening. Training for twelve hours per day sounded painful. I couldn't have been more wrong. I left the training room every night hungry for more! And whether we were out at a meal or having an after-class beverage, I found myself using my skills naturally and easily, and you were always available to answer questions and encourage our progress.
Steve, you are a great trainer. You have the skills of Richard Bandler and the energy and real-world focus that are necessary to make training a real pleasure. I'm very glad that I chose to be a delegate at your training and recommend to anyone interested in NLP training, that they stop waiting and start planning their trip now for training with you."
People like Jeff say "I love my NLP Mind."