Daisy Hernandez, Master NLP Vancouver, BC, Canada.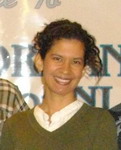 "I had taken my practitioner training at another institution and in comparison to Steve's training, it falls short. Steve's approach is by far the most comprehensive and hands-on. I ultimately have walked away with the training embedded in my brain. Really! It's true, "you won't be able to turn it off" is right on the mark.
Since taking my NLP training with Steve I have moved forward with my goals, taking a step every day. The material covered was exercised and the group environment was by far the most comfortable. I have found my trainer and I'm planning on continuing with Steve for any future trainings!
Thank you so much! I'm continuously putting my skills to work 🙂 "
 People like Daisy say "I love my NLP Mind."