David Miller. CEO, NLP Kelowna, BC, Canada.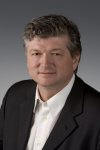 www.paretosystems.com
"Most people wonder, as I did, if you will get value for your money, will you be able to apply the principles and techniques, and will the instructor be entertaining for you. I assure you that all desired outcomes are in fact as you wish them to be and will go beyond reasonable expectations.
I feel that I am uniquely qualified to evaluate this program. I run a consulting firm where I am constantly evaluating other consultants abilities and 17 years ago I took a similar program on NLP and received my certification.
Steve Boyley's NLP training program was masterfully designed and true to the original and evolutionary content and structure by Richard Bandler. The content was thorough and presented with clarity and precision. Each exercise was carefully explained, ample time was given to experiment with the concepts and there was always a helping hand when needed. Steve kept the class moving at a steady pace weaving between course content, personal stories to exemplify the necessary information and examples of real life applications of the principles being explored. He made the most complex concept simple and easy to understand and apply.
Whether you are a business professional, a sales pro, a therapist treating clients for particular issues or someone who simply is interested in continued personal development; you will find the NLP training by Steve Boyley invaluable now."
People Like David say "I love my NLP Mind."