Lorraine Batstone, NLP Newfoundland, Canada. Entrepreneur.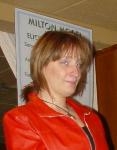 "I checked in at the Motel, a certain person. I checked out of the Motel, a different person! Thank you, NLP and thank you Steve for your effectiveness at driving it home!!
From language and communication patterns to other strategies of human behavior, I left this training equipped with the skills to regain control of my life, and the confidence to create the future I want, both personally and professionally.
Steve Boyley takes training beyond the traditional classroom, in every way (thank-you). His presentations are clear, concise and combined with plenty of humor and examples. He keeps his students involved and ensures their understanding of the material through plenty of hands on practice. The 12-hour days were broken up perfectly and the days flew by. The bar/lounge setting created a very comfortable and relaxed environment. In fact, it was so comfortable we never wanted to leave!!
Steve's NLP training exceeding my expectations and is tremendous value for the cost. The friendships formed and the quality time spent with fellow colleagues and Steve before and after class and at meal times added to the whole experience tenfold. In conversing with my NLP colleagues, many of us are already looking forward to returning to complete Steve's NLP Master Practitioner course.
People like Lorraine say "I love my NLP Mind."