Pam Feder, NLP Los Angeles, California (CA), USA. Entrepreneur.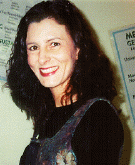 NLP training review. Practitioner 1999
Who
 Steven Boyley
 The Performance Institute of NLP™
 co-trainer: Elizabeth Payea-Butler
Where
Course Details
8 days
10 AM-10PM Daily but the time flew by
Complete workbook included
Nice sound system
spacious and comfortable training room; creatively designed for enhanced learning
small class format allowing plenty of individual attention while permitting group interaction
good coffee and tea always available, included at no charge
adequate break and meal periods
Trainers
Steven Boyley – The Performance Institute
incredible high energy
sensational humor
compelling voice inflections that were intoxicating
concerned with the greater good of each student and the skills absorbed
continued support and training
well experienced in all techniques being taught and fantastic command of NLP
clear presentations with plenty of examples
Elizabeth Payea-Butler : Co-trainer
great story teller with powerful messages
creative approach to course exercises
a walking example of living NLP
command of pure NLP and DHE
hears MORE than what is said
intense giving of time, skills, experiences
Course content (AKA What I learned):
language information combinations that allow the practitioner to gain more from information coming in
techniques which allow the practitioner to get information to the listeners mind rapid and more effectively
techniques to effect change in the self as well as others, specifically; re-framing, phobia cures, time lines
methods of trance induction
skills to access how an individual wishes to be in rapport with others
the use of metaphor to deliver powerful messages
Patterns of speech that allow the practitioner to obtain the desired results in ANY situation
techniques that allow the practitioner to reach the subconscious mind of the self or others in order to learn ANYTHING easily and effectively
techniques to RECALL desired results in the self or in others at any time in the future
Techniques to gather MORE information from a subject allowing the practitioner and the subject a richer experience and deeper understanding
An entirely new language that takes surface structure, and reveals the deeper structure revealing MAGIC and power within
Specific Personal Results
Greater understanding of my present business partner's mental map and have gotten results in working together where formerly it seemed impossible
3 days post NLP Practitioner training course, I had my first private client for NLP change work
I have opened my NLP office and have successfully done change work in clients in the areas of

phobia
setting and understanding well-formed goals
smoking
wt. loss
relationship building
financial fears

I formatted my weekly sales meetings as NLP based meetings

attendance has grown
enthusiasm is at an all time high
Sales are up as well

successfully negotiated and was hired as an International artist representative and have secured my first client a prestigious art showing in a well known Beverly Hills Art Gallery
successfully coached a teenager to change feelings of intimidation in preparation for a pre-law club mock trial competition
daily realization of new skills at use and growing all the time
Facility
very affordable
comfortable spacious rooms
good dining options
pleasant and safe area
close to all amenities
Additional Comments
this course and skills were taught context free so the possibilities for use are infinite, changing
absolutely NEW, nothing like it on the seminar circuit
cheap at twice the price trust me
Steven Boyley's continued NLP support and group on-line discussions are unequaled in trainings out there. Very available to the student on an ongoing basis.
People like Pam say "I love my NLP Mind."