André Harding. NLP New York, NY, USA.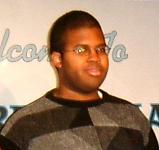 "I returned home from Steve Boyley's most recent NLP Practitioner training and by three weeks later I am a completely new person, as you will be when you decide to attend.
I am 21 years old, and for most of that time had been utterly miserable—shy, timid, and insecure about myself. I was an excellent student, but beyond that little else was going right for me. I suffered from depression for years (though I never told anyone) and often felt as if overall my life had been a failure. I had few friends and no fulfilling relationships to speak of, plus some that were dragging me down to a slow, painful death emotionally. In addition, I was torn in many directions by other people who were telling me what was best for me in my future. For two long stretches of my young life (5-11 and 14-20) I suffered silently, keeping up an act for the world that I was happy, while I felt like I was dying.
Now everything is different!! I communicate with people easily and effectively, I know how to probe people with the right questions at the right time, and am helping people on a constant basis by stepping into their shoes! I am happy, and I know how to make other people happy. I do not get stressed, and I no longer argue. I have mentally distanced myself from associations that were toxic to me. My romantic life has changed dramatically. My voice has improved. My confidence has never been as high.
When you only believe, this seminar will amaze you. BELIEVE THE HYPE!
I expected quite a lot when attending this seminar—being familiar with what NLP does, I expected to return from the seminar a better person. I cut a week of classes and stretched my finances to the limit to attend.
I did not become a better person. I BECAME A NEW PERSON! I got even more than I expected. People who don't believe in NLP or hypnosis are as blind as a newborn mouse. This technology is very real, and very life-altering. Prepare to shatter your limiting beliefs. Change your perceptions for the better. Step out of your comfort zone. And remember this: there is no such thing in real life as "status quo"—you are either moving forwards or falling backwards. The choice is yours.
Take this shot, you won't regret it.
About the NLP training itself: the trainer, Steve Boyley, is exceptional. He unquestionably has a mastery of the material, and he emphasizes PRACTICE. There is A LOT of opportunity to practice what we are learning, and Steve is always near to participate and to lend help when needed. Steve teaches the terminology and so forth, but we are encouraged to USE NLP, not know all the jargon. He is very loose, and the small atmosphere creates a bond among the delegates and trainer. Steve is also one of the FUNNIEST PEOPLE I HAVE EVER MET! He has a unique personality, and during the entire training you'll find yourself laughing uncontrollably.
What you will learn is too much to list—I refer you to the other pages on Steve's website. And you will learn each and every one of those things! You may not master every item, but as time goes on you will become better and better. What is for sure is that you will know more than enough to change yourself and to help others change themselves. The 8-day format enticed me because there is adequate time to learn the material and to internalize it. Do not be intimidated by the 10am-10pm format, because there are a lot of breaks in-between.
As for the location, a small, charming town in British Columbia. I am told the town has about 50,000 people, but I never saw them! I would often walk for blocks and not see a single person. This is all the more amazing, because there are A LOT of eating places, and also hotels. I'm from New York City, so I'm used to seeing lots of people and places. The venue was excellent, I felt, because it was quiet, and not a lot of distractions, so that you'll FOCUS on LEARNING THE MATERIAL.
All in all, this seminar was unforgettable, and I look forward to returning for my Master Practitioner training."
People like André say "I love my NLP Mind."