Maria-Dolores C. Haneffant, Avalon NLP Institute, Roseville, (San Francisco) California, USA.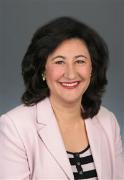 Maria-Dolores is a Communication Skills Master (The Performance Institute of NLP), Licensed Hypnotherapist ( The American Board of Hypnotherapy), Design Human Engineer, Licensed Master Practitioner and Trainer of Neuro-Linguistic Programming (Richard Bandler Seminars Group International).
"After taking courses with several different NLP Trainers, it is clearly evident that Steve Boyley is a Dynamic Presenter and a Proficient Trainer of NLP.
When you take Steve's trainings you will leave with a sense of confidence of your NLP Skills. I recently took Steve's NLP training, again, to review techniques and become more proficient in my hypnosis skills…I definitely got what I came for! The incredible atmosphere that Steve creates stimulates learning by getting your questions answered due to his personable demeanor. He is extremely funny!
The location is relaxing with plenty of multicultural cuisines within a walking distance of the comfortable accommodations.
I definitely recommend Steve Boyley's trainings."
 People like Maria-Delores say "I love my NLP Mind."