Shona O'Connor, Master Practitioner of NLP Bedfordshire, UK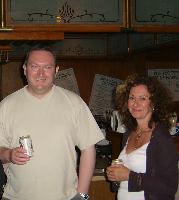 "Myself, my husband and our 2 children attended Steve's July NLP training course in Canada. We live in the UK and found the course amazing value. The cost of the course for 4 of us was only slightly more than I would have paid for my Master's course alone over here.
In terms of course content value – it was excellent. I have never had so much fun, or laughed so much on a course in my life. The learning was effortless and so much fun. Our 2 children, who were 12 and 14 at the time, also had a great time and found NLP so easy under Steve's tuition.
Having already trained as a NLP Practitioner in the UK, I can say that Steve's style of teaching was far better than the teaching I received here. He makes the subject very straightforward and easy to understand.
We also had a fantastic holiday in Canada along with the amazing experience of a course with a real international flair, with trainees from a variety of countries. It's an experience I wouldn't have missed for the world. I'm telling all my friends over here to go and train with Steve, rather than in the UK."
People like Shona say "I love my NLP Mind."