The NLP map is not the territory, the actual reality, it's a person's perception of reality.
Saying the NLP map is not the territory, is a reminder that we are all working with our own unique perception of reality. The NLP map of minds makes it easy to navigate people's thinking and perception!

You probably were not explicitly taught how to truly understand thinking and behavior, yet you deal with someone's thinking and behavior every day! That someone could be a boss, employee, co-worker, customer, supplier, prospect, acquaintance, friend, lover, relative, and most of all yourself!
Master the most important factor in your life, people!

You deal with your own thinking to achieve your goals. You also deal with others thinking and manage all sorts of relationships. Most aspects of your personal and professional life depend upon your ability to connect and get through to people.
NLP is for people like you who have to deal with someone, to get the results you want.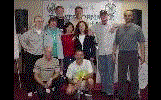 Have a better understanding of people and the skills to easily influence them. People from all over the world attend Steve Boyley's NLP training courses to become Neuro-Linguistic Programmers, the Communication Skills Specialists.
NLP Map of Peoples Thinking
'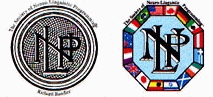 How people communicate' has been thoroughly mapped during the last thirty years. Neuro-Linguistic Programming (NLP) provides a map of the way people acquire their experience of reality, how people process perceptions, and how people communicate conclusions to themselves and others. In other words, NLP provides a map of subjective experience. NLP also provides ways that you can use that map to influence yourself and others. Top communicators in many fields are currently using this NLP map to understand and influence people and so can you!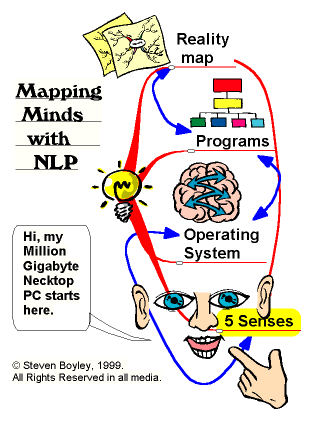 Mind
Altering
Perspective
Easily Navigating Minds
Using the NLP map helps you gain a functional knowledge of peoples thinking, their subjective experience. This powerful knowledge is based on the overall operating NLP presuppositions that all behavior has a structure and that structure can be modeled, learned, taught, and changed. It enables Neuro-Linguistic Programmers to organize information and perceptions in ways that allow them to achieve results that were once inconceivable to them.
Understand How The Brain Works And The Language That Drives It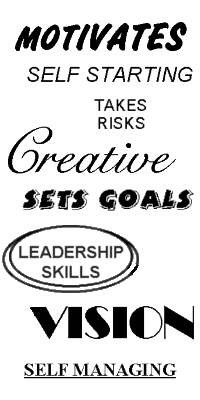 For more than 2 decades Steve Boyley has applied his NLP knowledge and skills to achieve his goals, in building successful businesses, in helping people already successful in their endeavors to become even more successful and in helping people overcome personal limitations.
In our NLP training seminars, in addition to teaching you the principles of NLP and the skills to use them, We provide a wide variety of NLP strategies as examples of how you can apply NLP knowledge and skills.
NLP Strategies for; personal transformation, self actualization, business success, loving relationships, powerful persuasion, effective negotiation, hypnotic induction, public speaking, learning quickly, overcoming limiting beliefs and phobias, selling, spelling, creativity, rapidly gaining new behaviors, easy improvisation for interesting conversation, and many more.
Open Your Mind To How People Think

Discover creative new ways to enhance effectiveness in all areas of your life for more enjoyment and pleasure. An awakening of your mind and all your senses, accelerating your skills for achieving your goals. Jump-start your influence and personal power, register for the full NLP Practitioner or NLP Master Practitioner training and certification by world renowned trainer Steve Boyley. Steve gives personal attention to each student, this major feature ensures that you get results!
Quickly Master Powerful NLP Skills

Our NLP training includes hypnosis training (optional hypnotherapy certification), plus business, coaching, persuasion, therapy, sports and personal NLP application techniques. Students say this NLP training is the best in their NLP reviews, because it's quite different. Even those certified elsewhere, take this training to get what they missed… how to do NLP.
Learn more about the NLP map of minds. Get your NLP mind.