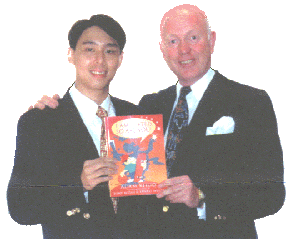 "Every page glistens with intelligence, humor, wit and creativity. I highly recommend Adam Khoo's best-selling book, I Am Gifted, So are You! Adam's title is correct. He is gifted! This does not need to be proven in any other way for you than by reading the book."
Tony Buzan
Originator of Mind Maps®
Founder of The Brain Trust
Chairman of the Brain Foundation
Author of 56 books including the worldwide best seller Use Your Head.
---
"Adam's unique talent is that he is able to structure and share specific techniques and strategies that any student can use to produce the same outstanding results he has achieved."
Wee Chow Hou, Ph D, PPA
Professor of Business Policy
Dean, Faculty of Business Administration
National University of Singapore
Author of Sun Tzu, War and Management.
---
One hundred and sixty seven pages of attention getting color with information that my kids actually wanted to read!
I suggest you have your kids skip the forewords and begin at the Contents. Buy them a set of fine tip colored markers, a pack of sticky notes and a decent day planner as well.
When you give them the book make a big deal of it, say "I have bought you a special gift and I will present it to you soon." Create mystery, intrigue, curiosity and anticipation. When you present it say, "This is the first gift for you. Tell me the moment you finish doing section one so I can give you your next gift". Present the markers at that time and say, "This is just a small, although important, gift. Tell me when you finish doing section two, so that you can receive an even greater gift". When they finish section two, give them the planner and sticky notes. Say "Your greatest gift of all is waiting for you to do section three". When they finish section three ask, "What ideas are you using from the book?" These are the true gifts. One more gift is in section four, how to ace exams.
Steve Boyley. MCHt. NLPT.
CEO.
The Performance Institute
---
The Books Contents.
Forewords by Ernest Wong and Tony Buzan
Section 1: THE QUEST FOR EXCELLENCE
Chapter 1 'A' Students, a Different Breed?
Chapter 2 The Concept of Learning
Chapter 3 The Power of Thought
Section 2 MASTERING LEARNING TECHNIQUES
Chapter 4 Your Powerful Brain
Chapter 5 Mind Mapping
Chapter 6 Supermemory For Words
Chapter 7 Supermemory For Numbers
Chapter 8 The Pattern of Memory
Section 3 THE JOURNEY TO SUCCESS
Chapter 9 The Secret of Goals
Chapter 10 Motivation - Moving Beyond Procrastination
Chapter 11 Formula For Scoring 'A's
Chapter 12 Time - Our Most Precious Resource
Chapter 13 Feel Empowered All The Time
Section 4 EXAMINATION SKILLS
Chapter 14 The Final Countdown
Chapter 15 The Final Battle
Need to read more? Chapter 1. Are 'A' Students, Different?